Stainless Steel VS GR Brass
Most Tapware manufacturers make tapware products of Chrome, Nickel, Copper or Stainless Steel. But the fittings inside of the tapware body is made from GR Brass which contains toxic Chemical like Lead, Arsenic etc. Vinco Stainless Steel Tapware does not contain any brass fittings. Consequently Vinco Stainless Steel Tapware products are the safest products in current Australian Tapware Industry.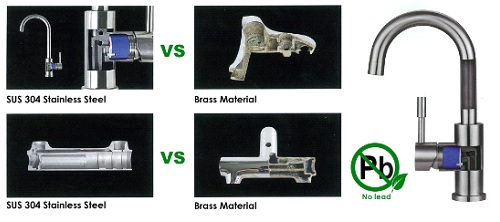 Total Cost of Ownership of buying a SS tapware Products
The total cost of ownership of buying a Stainless-Steel Tap Mixer is far cheaper than buying a brass Tap Mixer. Smart consumers do not look at just the unit cost of a product, they look at the overall cost of owning the product. Brass fitted tapware requires a consumer to purchase additional filter whereas Stainless Steel does not require such thing as it contains no toxic chemicals. Moreover, Standard Watermark, water Rating and extensive warranty features make Vinco Stainless Steel Tapware more cost effective in the long run.
What to check and compare when purchasing a Tapware?
Is it a lead-free?
Is it brass free?
What are the specifications and features?
Does it have Water Mark and Wells Rating?
Does it comply with Australian Standard?
Total cost of Ownership?
Warranty